Selling a house can be stressful, no doubt about it. When you enlist The Adept Team – you can breathe easily, knowing that your home's sale is being handled by experienced pros.
You may be saying, "Please let me know everything that will be happening, and everything that might happen, so I can be completely prepared."
Or, you may be saying, "Please just take care of everything for me."
We excel in both scenarios. Shannan loves to educate, and knows that planning ahead is everything. Amy's systemized emails keep you informed. Millissa's online and print marketing is state-of-the-art. And ultimately, Adept Real Estate does indeed take care of it all.
Below are several topics, read on if you wish! Or – just let The Adepts take care of you.
61 days before your house is Sold…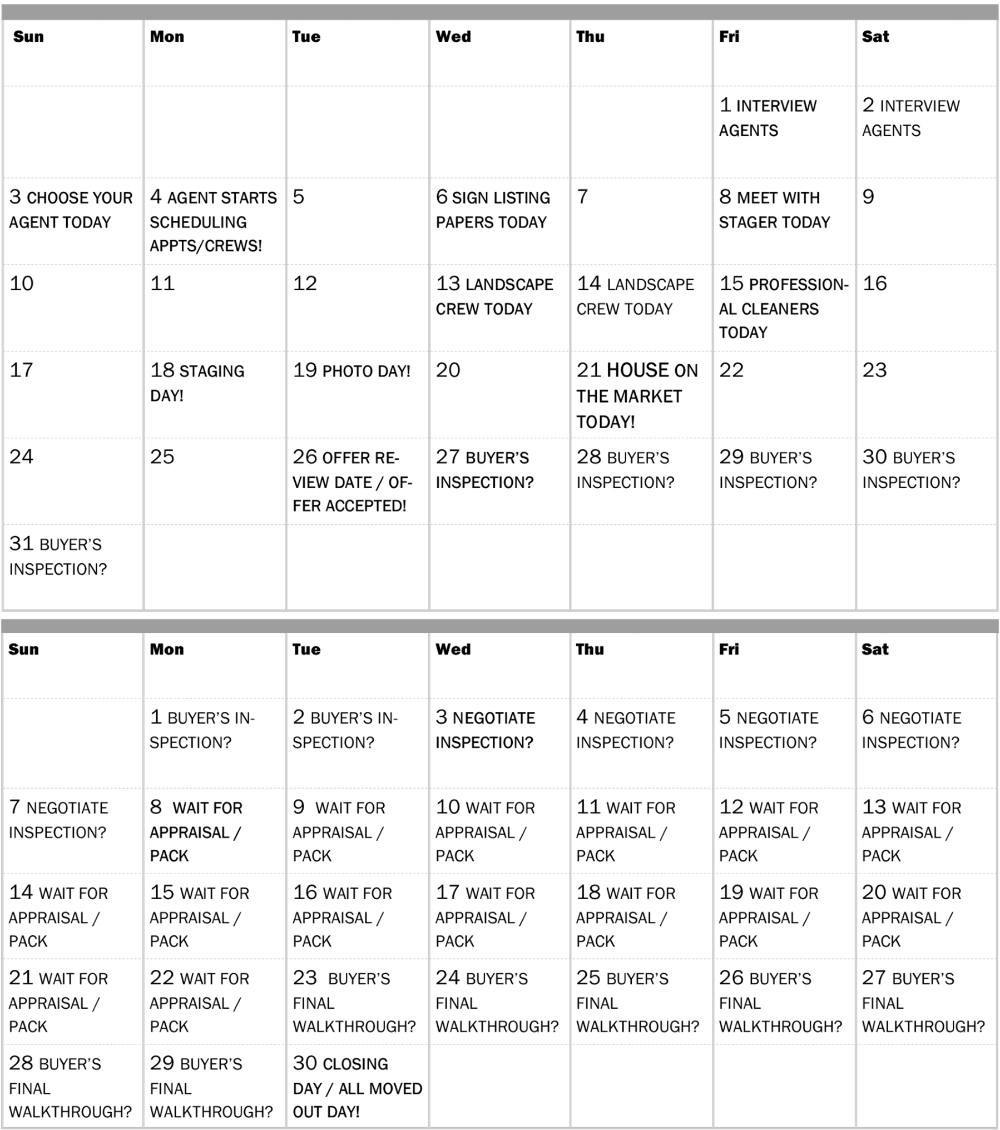 What to expect when you're selling your house
IF YOU ARE LIVING IN THE HOUSE, AND HAVE ASKED FOR "HEADS-UP" NOTICE FROM PROSPECTIVE BUYERS: Today, "nearly everyone" uses a program called ShowingTime. It allows agents to see when they can show a house. It simultaneously allows you to "block out" times that don't work for you! ShowingTime can be downloaded as an app if you want enhanced features, but you don't have to use the app if you don't want to! We can set up ShowingTime so that you receive text notifications, an email, and/or a phone call every time someone has requested a showing. It's a great system that works really well.

WHEN AGENTS SHOW YOUR PROPERTY: The electronic key box records each time the key box is accessed. If you are in the process of leaving when an agent arrives, please ask them to "key in." This is the only way for us to track who's been at your house. Agents are supposed to leave a business card, however, they may forget. From time to time, a light may get left on; a door may even get left unlocked. Someone might use your bathroom. ShowingTime sends an automatic email to every agent that has accessed the lockbox for feedback, and I always call agents for additional feedback. I then write down what each agent says, and share it with you.

UNDERSTAND THAT I PROBABLY WON'T BE THE ONE THAT BRINGS THE BUYER FOR YOUR PROPERTY: My job is to market your property so that the public becomes aware that it's for sale, and so that other agents will see it and let their circle of interested buyers know that it is available. Further, most buyers would not want to work with us, because we are representing you and your best interests, not theirs. This is explained further in the pamphlet, The Law of Agency. All agents are required by law, to provide their clients with this pamphlet.

YOUR ROOF: If your buyer is getting traditional financing, there must be at least "5 years' worth of roof life" left on your roof. If a new roof is needed, occasionally this can be worked into a contract so that it is paid out of sales proceeds, but if you're able to replace an aged roof before you go on the market, you'll likely end up with a higher sales price than if you replaced it just prior to closing. Let me know if you think your roof is near or at the end of its useful life, so that we can discuss this further.

IF YOU HAVE A SEPTIC SYSTEM: Kitsap County REQUIRES that every home sale be accompanied by a "septic system clean bill of health" (called a "property conveyance" or "health" letter) from Kitsap County Health District. WE ALWAYS ORDER THIS FOR YOU AT NO EXTRA CHARGE, with the understanding that we will be reimbursed at closing. To obtain this health letter, you MUST have your system inspected, and pumped if deemed necessary by the inspector. If any of the system components are not in good working order (in compliance), they must be corrected at your expense before the sale can go through. A basic septic system health letter costs $295. A septic inspection and pumping costs around $450-$550 right now.

IF YOU HAVE AN INDIVIDUAL, 2-PARTY, OR "CLASS B" WELL: Kitsap County REQUIRES that every home sale be accompanied by a "small well clean bill of health" (called a "property conveyance" or "health" letter) from Kitsap County Health District. To obtain this health letter, you MUST have your well water tested, either by a licensed water testing company or by Kitsap County Health District. If the water quality is outside normal standards (not in compliance), it must be corrected at your expense before the sale can go through. A "Water system health letter" costs up to an additional $200. AGAIN, WE WILL ORDER THIS FOR YOU AT NO EXTRA CHARGE, with the understanding that we will be reimbursed at closing.

IF YOUR OFFER COMES FROM A FIRST-TIME HOME BUYER: You may be asked to contribute up to 3% of the sales price towards the buyers' closing costs, and of course, this is negotiable. This is usually seen on offers from first-time buyers, but can vary.

IF YOUR HOUSE WAS BUILT PRIOR TO 1978: We are required to provide you with an informational pamphlet about lead paint. You, as a seller, must disclose if you have any knowledge and/or records about lead paint in your house.

IF YOU RECEIVE AN OFFER FROM A BUYER USING VA FINANCING: You may be requested to pay the full escrow fee (for both buyer and seller) instead of just half, which is otherwise customary. This is negotiable!

IF YOU HAVE A FURNACE: In a "normal" market, the seller traditionally pays a licensed HVAC technician to service the home's furnace. This costs about $175 right now. If you choose to do this before your home goes on the market, it helps prospective buyers feel at ease that you've been taking care of your home and relieves any concerns that there are any problems with the furnace.

IF YOU HAVE AN OLD, UNUSED HEATING OIL TANK ANYWHERE ON YOUR PROPERTY: It is your responsibility to have the oil tank professionally decommissioned if it hasn't already, and to provide a certificate of decommissioning to the buyer. This usually costs between $1000-$1500 but can vary.

ABOUT THE BUYERS' HOME INSPECTION: Nearly all buyers will hire a professional home inspector to inspect your house. They will be looking in your attic and your crawl space, testing your furnace, and opening up your electrical panel – so please have these areas clear. They'll be checking to see that insulation is intact, that there are no plumbing leaks or wood rot, that roof flashing was installed properly, that GFCIs are installed in appropriate places, that there are no active pest problems, etc. Any appliances that are staying with the house will be tested. How much/how many repairs a buyer will ask for, depends on market conditions and the buyer. I will always help you understand what is a reasonable request and what is not, and will negotiate appropriately, in your best interests always.

WE'LL ORDER YOUR PRELIMINARY TITLE REPORT. This will not cost you anything and will contribute to a smooth closing later. If there are any red flags, we'll work through them ahead of time.

IF YOU'RE ON THE MARKET MORE THAN ONE WEEK, WE'LL SEND WEEKLY MARKET UPDATES. This will show you what else has come on the market, gotten an offer, moved to pending status, or sold during the last week. You'll also receive "hit counters" which show agent and buyer activity on the NWMLS site.

WE'LL PREPARE A SELLERS' "NET SHEET" FOR YOU: We'll have prepared a preliminary net sheet for you, based upon a possible offer scenario. We're happy to complete updated net sheets for you if you desire.

ONCE YOU'RE UNDER CONTRACT WITH A BUYER: We will send emails as appropriate, informing you of all contract activity and deadlines. You'll receive information and updates as the sale progresses.
"I don't know what I don't know – what should I ask Shannan?"
Should I get a pre-inspection?
What the home inspector is looking for, and how to prepare my home
How home inspection negotiations work
Insight into which inspection items buyers commonly (or are likely to) ask for
My closing costs as a seller
Can I leave my nanny-cam on?
What happens if the buyer's appraisal comes in low
What to expect while my home is on the market (the good, the bad, the ugly)
What to expect from the buyer's final walk-through
Which items stay with the house – and what I can take with me (according to the contract)
What has to happen, for me to get the buyer's earnest money
What an offer from a buyer looks like! (mock offer presentation)
Why the buyer's choice of lender matters to me as a seller
Why the buyer's choice of agent matters to me as a seller
Agency & Dual Agency – what's legal and how do they work?
How I can get out of a contract with a buyer
Buyers asking me to help them pay for their closing costs?!
How buyers' Conventional, FHA, and VA loans differ to me as a seller
What a contingent offer is, and what that means to me as a seller
What to expect from the title company
What to expect from the escrow company
What's the Seller Disclosure Statement?
Should I install new carpet or offer a credit to the buyers?
Should I install a new roof or offer a credit to the buyers?
Understanding how clean my house has to be at move-out
Understanding signing and closing timeframes
Is there anything you can help with, if I'm moving to another state?
What to do about that old oil tank (?!?)
28 tips for selling your house faster
Stimulate buyers' imaginations by setting scenes throughout the house, such as a chess game in the corner of your family room.
Create a spacious feeling while showing your house; leave all interior doors open fully.
Use brightly colored pillows and fresh flowers to draw attention to the positives. A splash of color in an otherwise neutral room really stands out in photos.
A bright colored umbrella and/or furniture on the deck or patio invites buyers to picture using the back yard.
Disguise unsightly views. Remove dark, heavy drapes and replace with light sheers; let breeze blow in and move sheers. Never block natural light.
Eliminate bad odors. Breathe fresh outside air, then go indoors and hunt down offensive odors. Use Lysol, Febreze, deodorized cat litter, and cedar chips or blocks in your closet. If you keep your clothes hamper in your closet, find another place for it while selling.
Keep your front door area (inside and out) clean and uncluttered. Buy a new door mat, clean brass door knockers, remove cobwebs, and place potted flowers on the front porch. Color is important.
If you have a simple door knob, consider replacing it with an elegant one. The front door is the buyer's first impression. Be sure to wash the front door too.
Avoid eccentricities such as beads in doorways, wild posters, dark walls, mirrored ceilings, sacred temples, etc. Your house must appeal to the masses.
Hold a garage sale before listing your home to make certain that all storage areas, closets, and the basement and garage are as uncluttered and spacious as possible.
Find the fine line between clutter and emptiness.
Make your yard visible from the interior… keep windows crystal clean, and repair or replace damaged or missing screens. Clean the window tracks too.
Leave all the lights on for showings, especially if your switches are in unusual places. It's okay to ask buyers to turn them off when they leave.
If possible, put a swing or bench on the front porch with colorful pillows.
Remove family photos and wall hangings with your family's or children's names.
Make sure the entry level floor makes a good first impression.
Clean out the closets nearest to the front entryway; make it appear spacious, with empty hangers for plenty of winter coats.
Highlight the fireplace if you have one. Add color on the mantle, or have a fire going if the weather is cool enough.
Stand about 30 feet outside the front door and evaluate the feeling you get from looking at your house. It should be tidy, inviting, and feel like home.
Create extra counter space by storing appliances that you don't use every day, along with dish racks, dish soap, etc.
De-personalize teenagers' rooms; not everyone has teens or likes their taste in decorating.
Have fresh flowers in the house to give a feeling of elegance in the home.
Increase the wattage of light bulbs to the maximum allowed wattage. Replace any CFL bulbs with ones that are instantly bright – and make sure they're all the same type of light, for example "soft white" or "daylight."
If you have no plants in the home, add some artificial plants and/or a vase of artificial flowers, to give a feeling of life in the home. If your plants are wilting, give them away or ask a friend to care for them while your house is on the market.
Add a neutral coat of fresh paint.
Have the carpets professionally cleaned.
Leave your house during all showings.
Board pets or take them with you during showings.
Top 10 ways to keep home buyers from making an offer on your house
Odors
Odors are Number One on the home selling uh-oh list. To be more specific, odors from cigarette smoke and pets are most offensive, with mildew not far behind.

If you smoke indoors—it smells. Sorry, but it's true. And if you have pets, the house usually smells like your pets. Perhaps not to you but ask someone who doesn't live there to take a sniff (and don't get angry when they tell you the truth).

There's only one solution: Eradicate the odors so that you can present potential buyers with a clean, fresh atmosphere – not a house that's full of perfumes to cover up the smell.

Poor Curb Appeal

You must grab buyers' interest from the curb if you want to sell the house for top dollar. Buyers have often just seen three other houses and might choose to not even enter a house with an unkempt yard, sagging shutters or peeling paint.

Be sure to make the front door as inviting as possible: Buy a new door or paint the old one and install a new lockset. Can't afford to? At least wash the old one and polish the hardware.

Dogs that Meet You at the Door or in the Driveway

Dogs frighten some people and irritate others. You'll have a much better response from showings if you control your pets – dogs, cats, whatever.

You say you plan to put them in a bedroom or garage and then ask people not to enter that area? Not a good idea. Would you want to make an offer on a house whose interior you hadn't fully seen? Probably not!

Dirty Bathrooms

Grimy bathrooms are an instant turn-off. Scrub them until they shine. You can paint them too, especially if the current color isn't a neutral one. Buy a new shower curtain, rugs, and towels, and make your bathroom look like a magazine picture. If you're serious about selling the house, the extra work will make the selling process much, much easier.

A House Full of Busy Wallpaper

This is another critical issue to think about if you're selling a house. Busy wallpaper turns off most buyers, and even those who love wallpaper will rarely love what you've chosen. It's a personal decorative touch that they will want to select on their own.

It's the masses you must appeal to when you're selling a house, so take a hard look at the wallpaper and decide if it should be removed.

Dimly Lit Rooms

Dark homes are also a turn-off to most home buyers. To start with, make sure every light in the house is on (where appropriate). Be sure to open blinds and draperies. If the room still appears dark, here are some potential fixes:
« Replace the current bulb with the highest recommended-wattage bulb.
« Remove heavy draperies completely.
« Repaint some rooms with colors that reflect light.
« Trim tree limbs that shadow the house.

While you're at it, clean the windows, inside and out. If you can, replace any insulated windows that have broken seals (you'll see moisture within the windows that can't be wiped away). Dirty and fogged windows are another buyer turn-off.

Damp Basements
Any dampness (or damp smells) in the basement throw up a red flag to buyers that the basement leaks! Even if it doesn't truly leak.

If you have leaks, fix them. No leaks? Look for drainage issues. Perhaps water is pooling around the foundation, keeping it damp. Most problems are caused by rainwater that's being diverted towards the foundation instead of away from it.

« Underground drains might be blocked.
« Downspouts could be aimed the wrong way.

Go outside the next time it rains and take a look.

Bugs

Spiders, ants, wasps, any type of bug that shouldn't be in the house. Get rid of them.

Gutters with Plants Growing in Them / Roofs with Moss on Them

Some people don't clean their gutters or their roof, and this always makes buyers wonder what other maintenance issues haven't been dealt with.

Sellers Who Hang Around During Showings

Yes, you… leave the house during showings. Home buyers feel awkward about opening closed doors or taking their time to really look at the house if the seller is there. Moreover, they often like to discuss the house with one another, but won't do this when the seller is present. Let their buyer's agent show your house for you.
Parting Words
Most of the Top 10 Problems are house selling issues you can correct without spending a lot of money. Fix things now, before you put your house on the market, because if it develops a reputation as the house that smells, the house with the damp basement or the house with spiders inside, you will definitely lower your chances of receiving top dollar. Make sure your house becomes known as one that's great for homebuyers to come see.
A note about how commission works
While the cost of selling a home can seem daunting, the commission covers more than you might realize.
The total commission fee is always split 50/50 between Adept Real Estate and the office that is representing the buyer. These amounts get split again — each office has its own fees and structure, and the agents never get to keep the entire commission.
What are you paying for? You're paying for expertise. At Adept Real Estate, you get four agents for the price of one! Shannan has three employees on payroll, and all of them are licensed Realtors. Amy, Millissa, and Leather all excel at what they do, and their work frees Shannan up to do what she does best — answering your questions, meeting with you, coordinating stagers and photographers and electricians and plumbers — while you focus on packing and moving.
Some agents charge less than others, and they should. When you're interviewing agents, ask what services they provide. Ask about their experiences, ask about how many homes they've sold recently, ask if they have any assistants. Ask for referrals and look at online testimonials. At the end of the day, the commission paid to the team at Adept Real Estate goes far above and beyond what most agents would have been able to do for you.